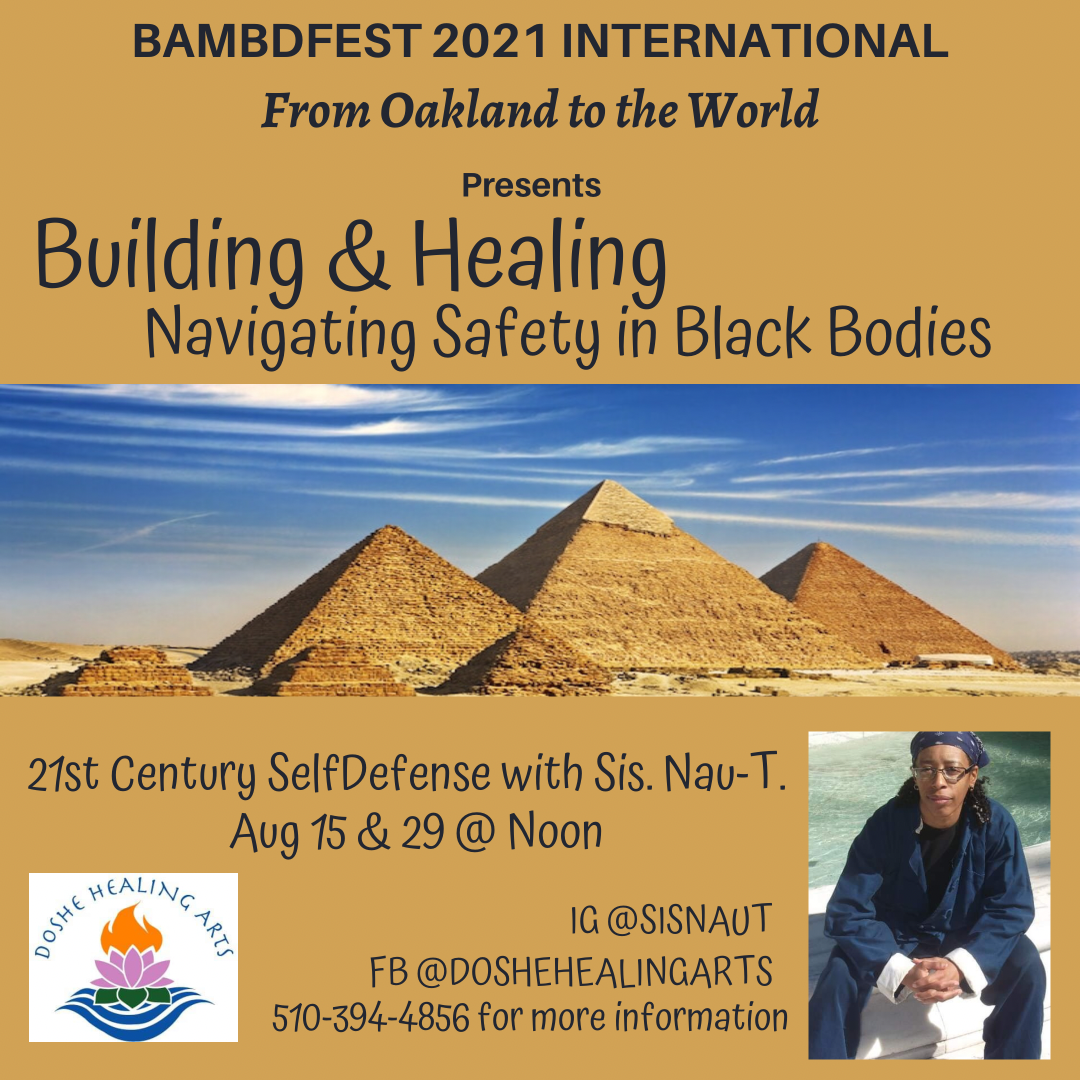 Doshe Healing Arts: 21st Century Self Defense
August 15th and August 29th at 12pm
Doshe Healing Arts: 21st Century Self Defense -Alternatives to violence and pathways to peace. Movement and instruction to promote safe practices for navigating in dangerous times. Black, Queer, Trans, Women and Girl centered.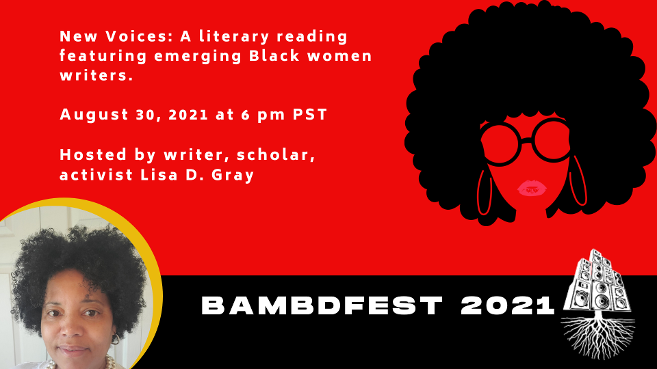 "New Voices: a reading featuring emerging writers"
Presented by Our Voices Our Stories
August 30th 6-7:30pm
https://us02web.zoom.us/webinar/register/WN_YiEdHs0gRz6ANdFW2dRmoA
Our Voices Our Stories presents New Voices: a reading featuring emerging writers featured at previous OVOS sessions. These women write phenomenal stories, poems, and essays that move monds and lift hearts.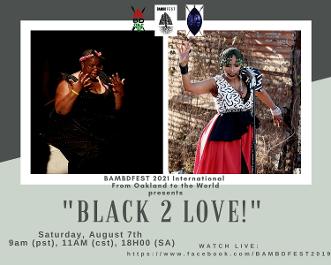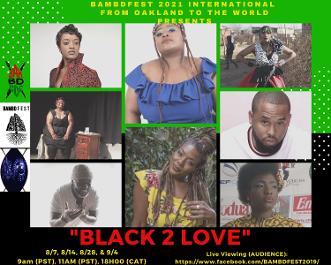 "From Oakland to the World: Black 2 Love" performance and discussion series hosted by Kharyshi Wiginton
Saturdays in August at 9:00AM
8/7, 8/14, 8/28, 9/4
Live Viewing:
https://www.facebook.com/BAMBDFEST2019
"From Oakland to the World: A Love Letter" 4 weekends of performance/discussion about different aspects of Black love. Each event lasting 1-1.5 hour(s).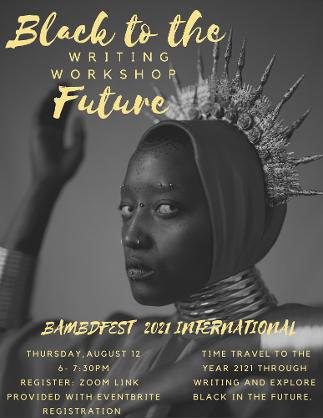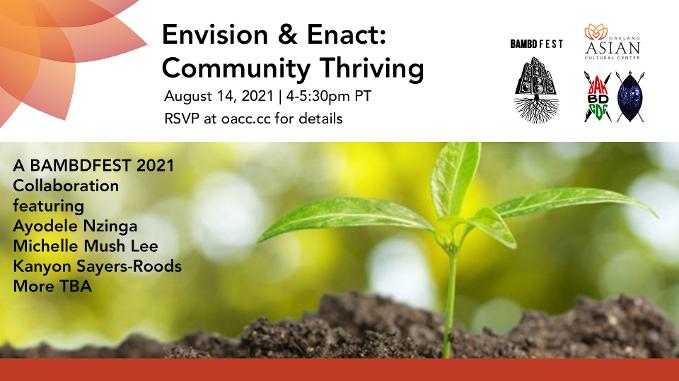 Envision & Enact: Community Thriving
August 14th 4:00 pm - 5:30 pm
Virtual Event
Oakland-based API and Black artists and community organizations unite for an afternoon of performance and dialogue centering our shared history, challenges, and vision for what safety look like in all communities.
The event will open with drumming and a land acknowledgment by Kanyon Sayers-Roods, a member of the Costanoan Ohlone and Chumash people.
Featured artists include Ayodele Nzinga, City of Oakland 2021 Poet Laureate and founding Producing Director of Lower Bottom Playaz, Inc., and Michelle Mush Lee, Principal and Founder of Whole Story Group. More guests to be confirmed.

This event will be held in-person in OACC's Auditorium. Depending on the development of environmental factors (namely COVID-19), this event may pivot to a virtual format.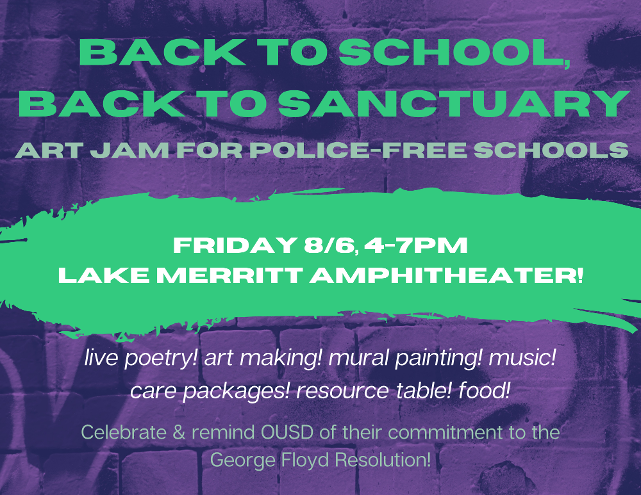 Back to School, Back to Sanctuary: Art Jam for Police-Free Schools in OUSD
August 6th 4-7pm
Lake Merrit Amphitheatre
Come join community for art at the lake. We are banding together to celebrate ourselves, but also to remember what's important: thanks to the hard work of the Black Organizing Project and allies, the Oakland Unified School District has pledged to the George Floyd Resolution to keep officers out of Oakland public schools! This event is an example of the type of joy that can be shared when we focus on community healing, rather than over-policing.

There will be live poetry, guest speakers, art making, mural painting, music, care packages, community poetry booklets, a resource table, food, and above all community!

Students, parents, OUSD community members, and allies and supporters are welcome.

Come through to celebrate and help us remind OUSD of their commitment to the George Floyd Resolution.
The Lower Bottom Playaz presents a staged reading of "Riot" by David Tally
August 9th 7:00pm-9:00pm
Virtual (RSVP information to be posted soon)
Riot by David Talley is a short pointed look at violence as a means of creating change. The work is set in the recent and familiar past and points clearly to current conversations about how much is too much. This work is accompanied by a discussion on Civil Disobedience.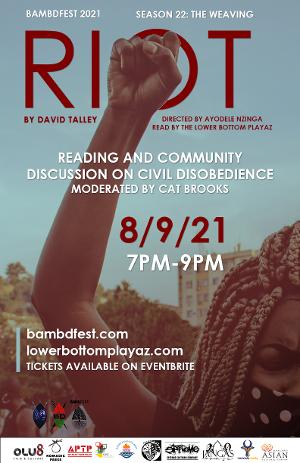 The Lower Bottom Playaz presents "Black House" by Cat Brooks
August 19th & 23rd at 7pm
Virtual (RSVP information to be posted soon)
Black House, written and directed by Cat Brooks, is a delicious piece of Afrofuturism that considers what lies beyond the end of empire in a world where the leadership is both Black and female.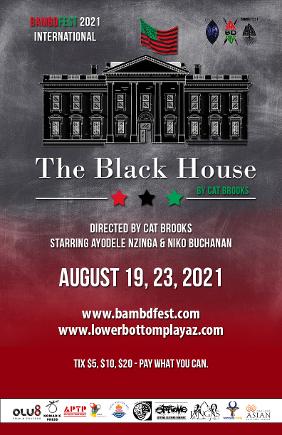 The Oakland Mind presents
"Higher Consciousness Through Music and Mental Health"
8/13 6-9pm
Digital Register at: https://us02web.zoom.us/webinar/register/WN_z0aFJD9mS7mxPw8i77T52A
The Oakland Mind is comprised of founding member Najee Amaranth, and his partner Amani Jade. Najee is a father, cultural advocate and emcee. He utilizes hip hop art and knowledge to reimagine and reconstruct culture. Amani Jade is a multi-faceted creator known as a femcee, poet, and long-time teaching artist who promotes the power of healing through creative expression. The Oakland Mind has worked to create spaces for artists, bring awareness to human trafficking, and teach youth through the elements of hip-hop. We serve as a bridge between the streets and Black Consciousness, building community through collaboration, conversation, music and clothing.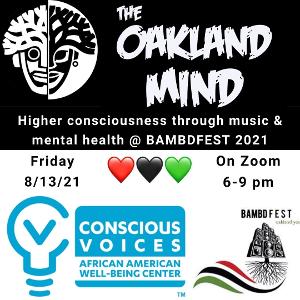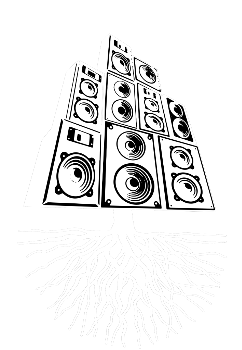 "Cat's Commentary" with Cat Brooks
Every Monday in August at 11am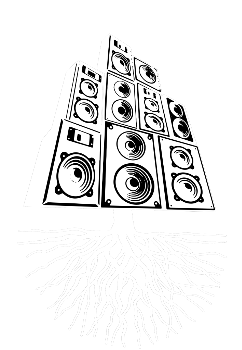 "Off the Record" podcast with Marvin X
Wednesday August 4th, August 11th, August 18th, August 25th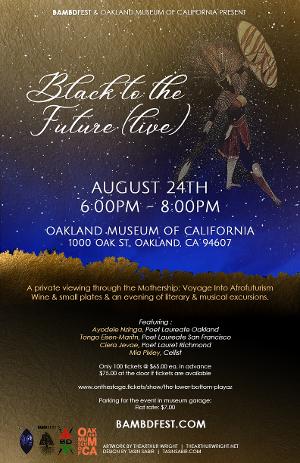 Black to the Future (Live)
August 24th 6:00pm - 8:a00pm
The Oakland Museum of CA
1000 Oak St., Oakland, CA 94607
A private tour through the Mothership Connection Exhibit. Wine & small plates & an evening of literary & musical excursions.
Ayodele Nzinga, Poet Laureate Oakland Tongo Eisen-Maritn, Poet Laureate San Francisco Ciera Jevae, Poet Lauret Richmond Mia Pixley, Cellist Only 100 tickets @ $60.00 ea. in advance $75.00 at the door. Parking for the event in museum garage: Flat rate: $7.00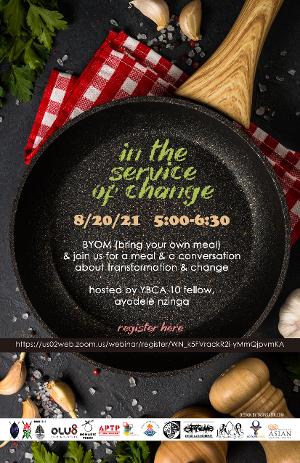 in the service of change
8/20/21
5:00-6:30
BYOM (bring your own meal)
& join us for a meal & a conversation about transformation & change
hosted by YBCA 10 fellow,
ayodele nzinga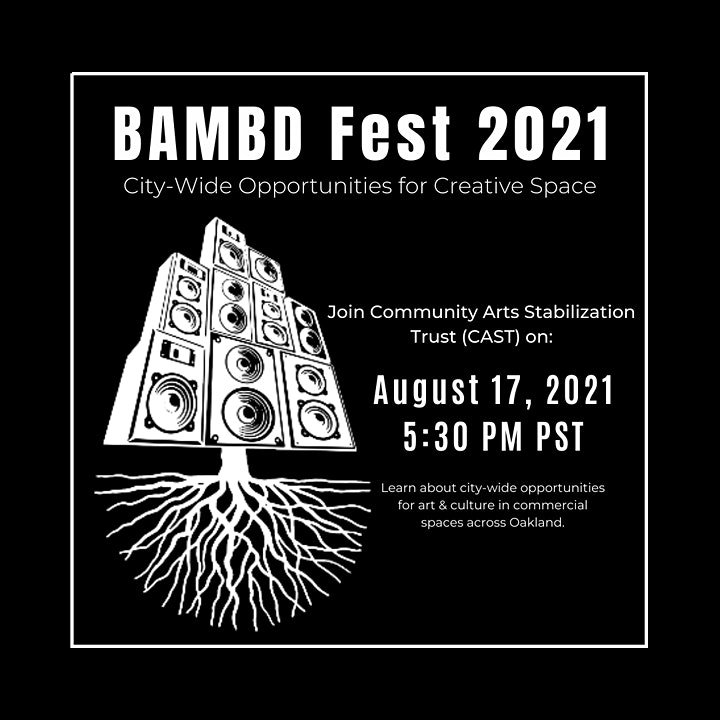 "City-Wide Opportunities for Creative Space" panel discussion hosted by Community Arts Stabilization Trust
Tue, August 17, 2021
5:30 PM – 6:45 PM PDT
Join CAST at BAMBDFEST 2021 and learn about city-wide opportunities for arts & culture in commercial spaces across Oakland.
For more information
and to register head to: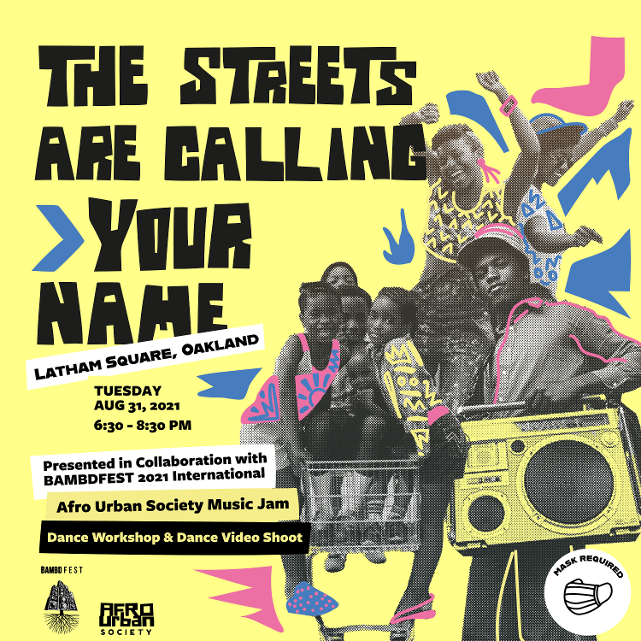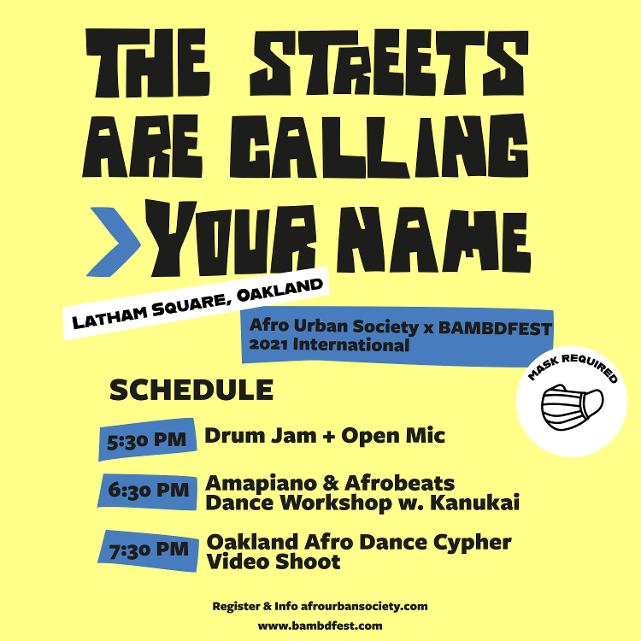 The Diamonds & Bullets Experience
Sun. 8/22 @2pm
The Diamond & Bullets Experience is an audio play designed for organizational teams, project staff or adult learning communities as a provocation for deeper self-reflection and dialogue about race, equity and empathy. For this special BAMBD Fest edition, we will be hosting a discussion with directors, artists and producers to talk about the development of and inspiration for the piece. All attendees will receive a link to the music, a reflection guide and lyric book.
Registration/access link: https://us02web.zoom.us/meeting/register/tZYpc-yorj8oG9f7yW_4sjAkuHHShpZVRksd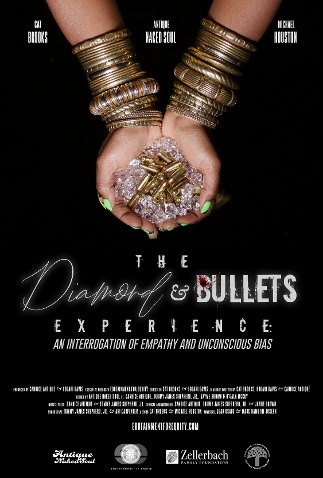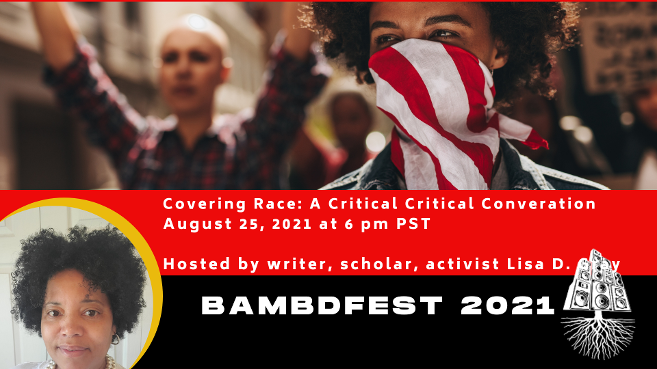 Covering Race: A conversation with women of color journalists
August 25th 6:00pm-7:30pm
https://us02web.zoom.us/webinar/register/WN_fFcCv0Z_SoqHax_JWvnWIQ
Covering Race: A conversation with women of color journalists who cover race locally and nationally. Panelists: Blanca Torres, executive producer for KQED Forum and Teresa Wiltz, Race and Equity editor for Politico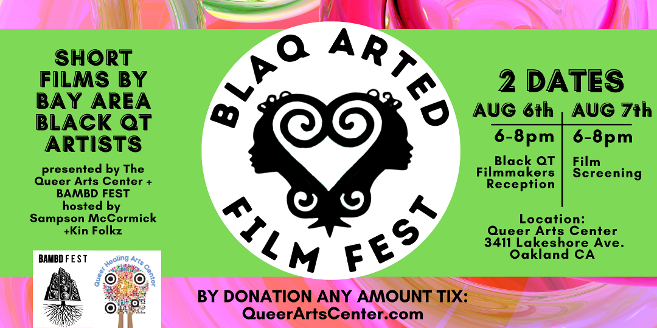 Blaq Arted Film Fest: Short Films by Bay Area Black QT Artists
Hosted by Sampson McCormick
and Kin Folkz
Friday August 6th 6-8pm Saturday August 7th 6-8pm
3411 Lakeshore Ave, Oakland, CA 94610
Masks required
Pay What You Can Sliding Scale $5-$20 Tickets @ QueerArtsCenter.com
The Queer Arts Center + BAMBDFEST 2021 present

The BlaQ ArTed Short Film Fest!
Celebrate the music, art, films and truths of Bay Area Black QT Filmmakers + the Black/Indigenous Queer Trans-led Queer Arts Center!
Aug 5th, 2021
6-8pm PDT
Filmmakers Reception
All are welcome

Aug 6th, 2021
6-8pm PDT
Film Festival
All are welcome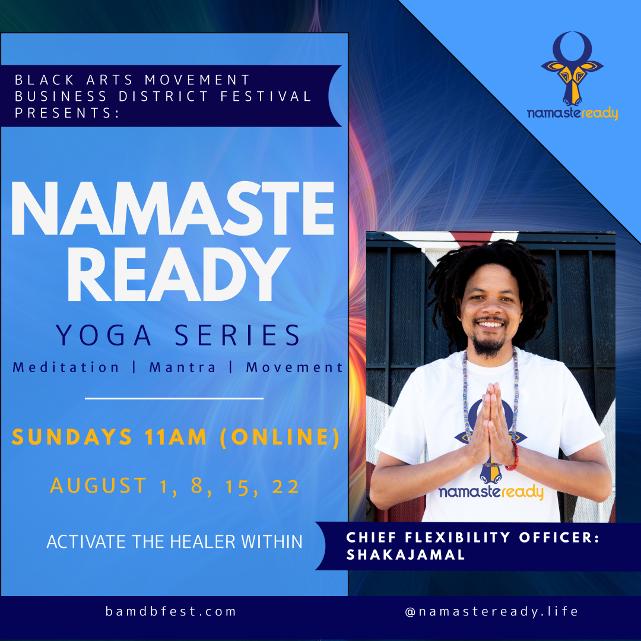 Yoga with ShakaJamal
Every Sunday in August at 11am
Join ShakaJamal of @namasteready.life for a 4 part series of yoga sessions enlivened with meditation, mantra and movement. These yoga and self care healing practices are designed to activate and support the healing powers of the Black Community. Classes will be pre-recorded.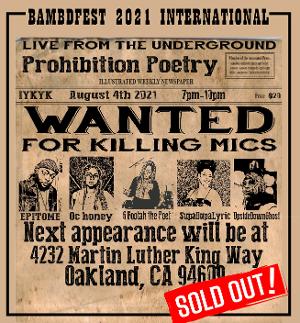 Live from the Underground - Prohibition Poetry
August 4th 7:00pm-10:00pm
In Person and virtual
To tune in follow @Theepitomeclothingcompany on Instagram
A Spoken word event featuring some of the hottest poets in the Bay Area.
The Call
Sunday August 1st from 12:00AM-12:33AM and August 31st from 11:30pm -12:00am
Virtual registration link for August 31. https://us02web.zoom.us/meeting/register/tZYldOuspzktG9w1QUk8uX1uSESaf1Qrnh_W
Our Black community has gathered annually on New Year's Eve to observe "WATCH NIGHT" since, "Freedom's Eve", December 31, 1862, when free Blacks and Black slaves came together all across the nation to await news that the Emancipation Proclamation had become law on New Year's Day, 1863. We met July 31, 2021 for THE CALL where we gathered in song, music, prayer, and art to set the intention for the next Watch Night to see us safely through another year. August 31 we gather again to close out the month of programming with rebroadcast and more live performers. Doors open at 11:00 and the ritual will begin at 11:30

8/31 Registration Link:
https://us02web.zoom.us/meeting/register/tZYldOuspzktG9w1QUk8uX1uSESaf1Qrnh_W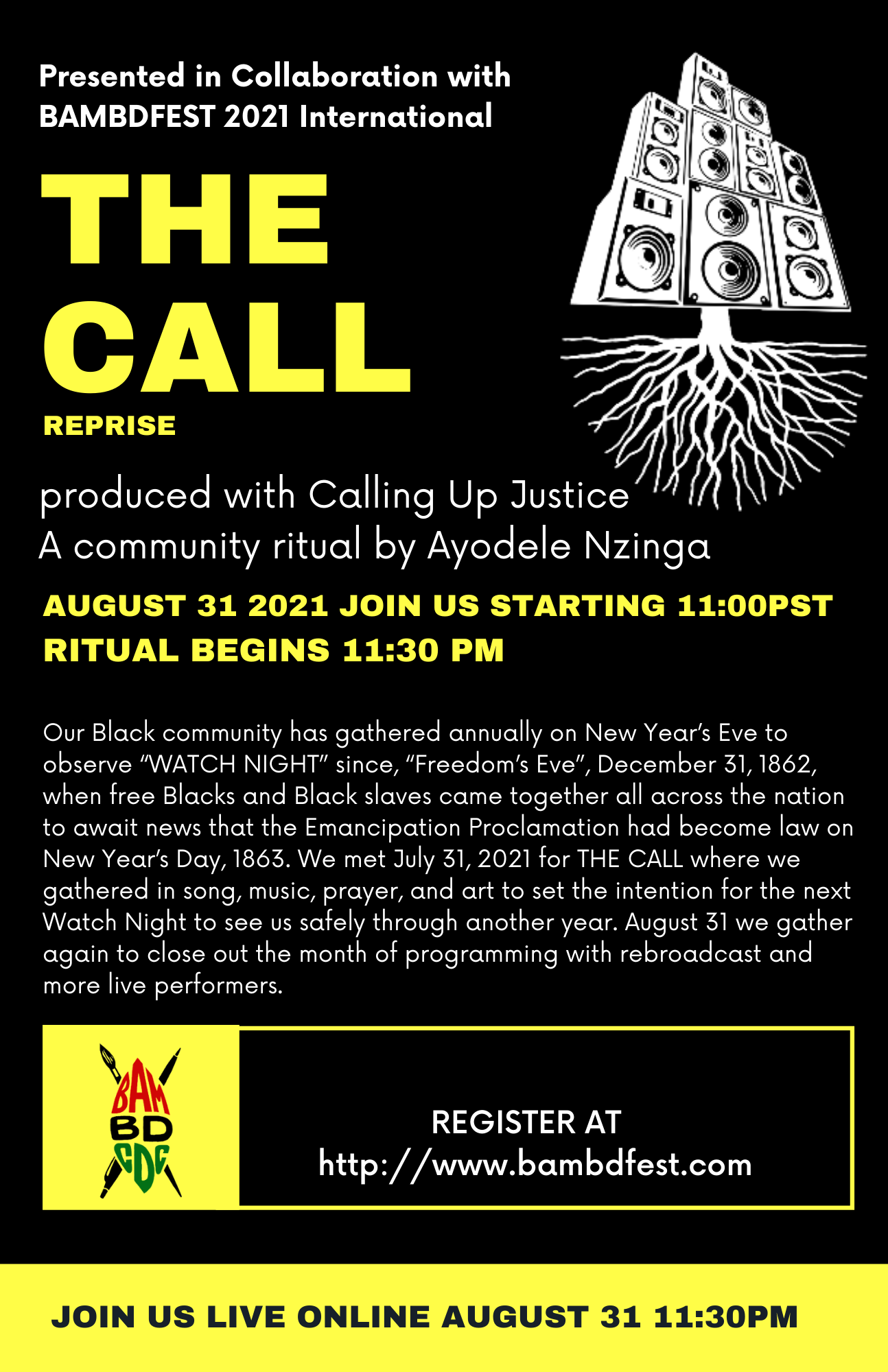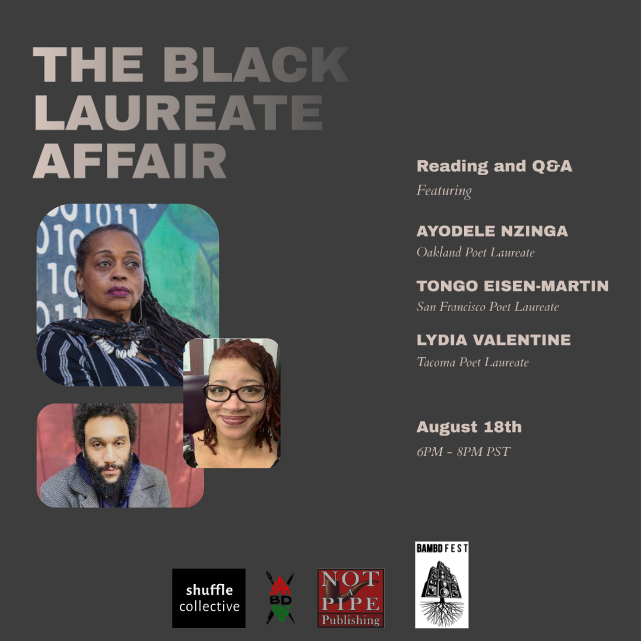 "The Black Laureate Affair" presented by Not A Pipeline Publshing, Shuffle Collective and BAMBDFEST 2021
August 18th 6-8:00pm
Virtual
Reading and Q+A with three Poet Laureates! Ayodele Nzinga, Oakland Laureate, Tongo Eisen-Martin SF Laureate and Lydia Valentine Tacoma Laureate.
The Lower Bottom Playaz presents a staged reading of "Journey of Names" by Will Crossman
Part 1 Monday August 2nd 7:00pm
Part 2 Monday August 29th 7:00pm
For Registration info head to:
BAMBDFEST Calendar
Journey of Names by Will Crossman was written for a Black Cast and will be read by The Lower Bottom Playaz in two parts. This complex work looks at the history of a Black family from multiple vantages across time. A complex tale about a quest for freedom, roots, and a story of self. This is a work in development. It will be presented with a q&a with the cast and author.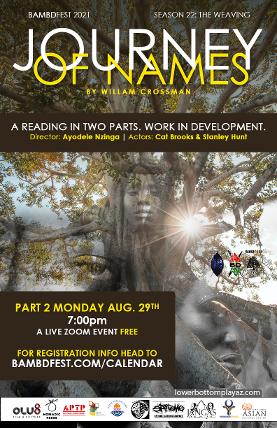 The Lower Bottom Playaz presents an evening curated by "Janga's House," a collective of Black Female Artists
August 15, 2021
7:00pm - 9:00pm

Ticketed Virtual Event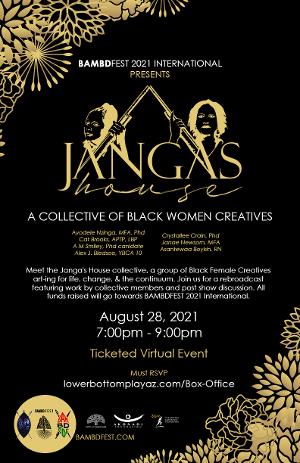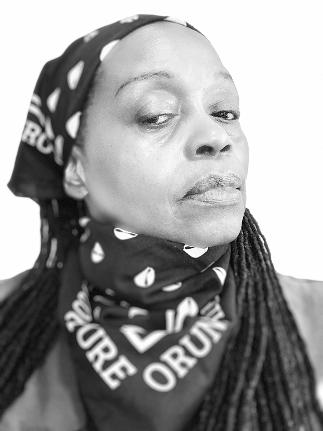 "The Bigger Picture" podcast with Dr. Ayodele Nzinga
Every Friday in August at 11am
The Bigger Picture hosted by Ayodele Nzinga, MFA, Ph.D. takes us beyond the surface to reveal the bigger picture in a series of conversations with culture makers that take us behind the scene of creative processes and offer insight into timely issues.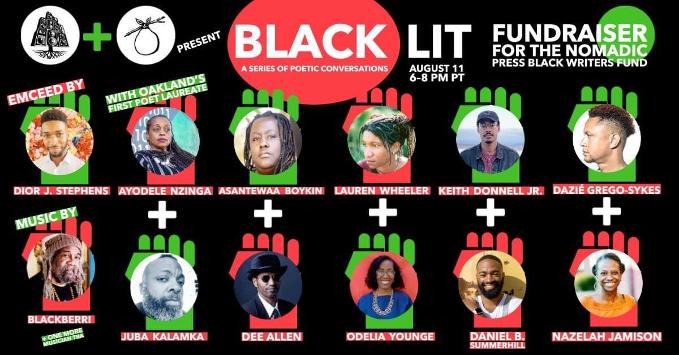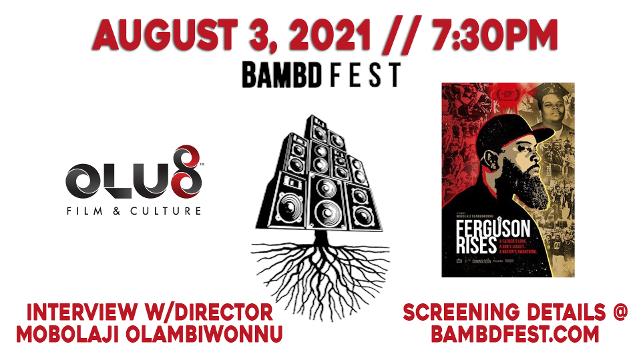 BAMBDFEST 2021 in association with Olu8 Film & Culture Presents Uhuru Film Festival
Tuesday August 3rd and Tuesday August 10th at 7:30pm
Come celebrate with us and be inspired by our films of resistance and liberation.