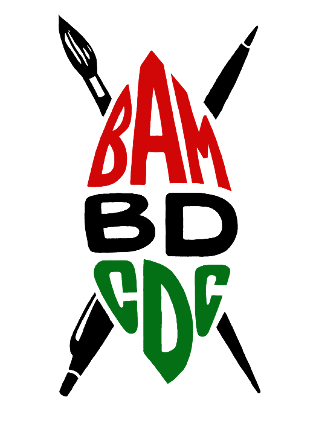 Black Arts Movement Business District Community Development Corporation of Oakland (BAMBD, CDC of Oakland)
PURPOSE:
To advocate, organize, create, develop, implement, foster, and ensure the thriving of BAMBD, Oakland, CA through vigilant organizing, development of infrastructure, and the creation of mechanisms for stewardship and advocacy.
MISSION:
To create, In the tradition of the Black Arts Movement, a Black culture driven space dedicated to the growth, cultivation, and sustaining of Black *livity, (*good strong life.)
BAMBD, CDC will honor Oakland's contributions to, The Black Arts Movement, one of America's most impactful social movements and its most productive literary era. It will encourage self-directed solutions to endemic issues that thwart thriving in Black communities. It will acknowledge the work of Black Arts Movement progenitors, contributors, its body of work, and its cultural intentions, as expressed by its cultural contributions. BAMBD, CDC will uplift the historical importance of the Black Arts Movement, which continues to influence self-determined international movements for equity and inclusion, embody its perseverance by working in its continuum .
BAMBD, CDC's mission is to facilitate and amplify the value of the continued development of Oakland's culture-driven ecosystem. BAMBD, CDC is dedicated to the creation and stewardship of the Black Arts Movement Business District. In this role we will help to sustain anchor institutions, advocate for their interest, create new institutions and broaden opportunity through the devolvement of strategies that comprehensively serve our intention of thriving.