Mia Pixley, Ph.D. is a clinical psychologist and artist who uses her cello, voice, and music performance to study and represent aspects of self and other, community, and the natural world. Similar to the collaborative lens from which she approaches her psychotherapy practice, Mia's artistic collaborations lead with curiosity, honesty, humility, and humor. Protectively whimsical and simultaneously melancholic, Mia's music gravitates toward the beauty hidden in sorrow, pain, and loss and this beauty's potential to inspire curiosity, wonder, rebirth, and reconnection to ourselves, each other, and the natural world. She has a professional studies diploma in cello performance from San Francisco Conservatory of Music (Class of '18). She has performed on GRAMMY award winning albums and award winning off-Broadway musicals. She tours regularly with Windham Hill Winter Solstice Tour and collaborates with artists both in the SF Bay Area and NYC. Mia lives in the California Bay Area with her husband and their young son. She cares about community, interconnectivity, and nature. Mia just released her first full length album titled "Margaret in the Wild" this July (2021), which you can find on streaming services and bandcamp.
Photo credit: David Pettijohn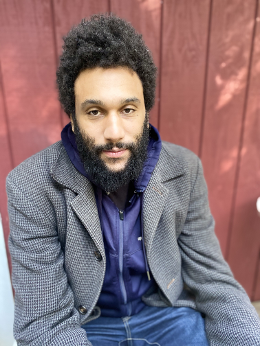 Originally from San Francisco, Tongo Eisen-Martin is a poet, movement worker, and educator. His latest curriculum on extrajudicial killing of Black people, We Charge Genocide Again, has been used as an educational and organizing tool throughout the country. His book titled, "Someone's Dead Already" was nominated for a California Book Award. His latest book "Heaven Is All Goodbyes" was published by the City Lights Pocket Poets series, was shortlisted for the Griffins Poetry Prize and won a California Book Award and an American Book Award. His forthcoming book "Blood On The Fog" is being released this fall in the City Lights Pocket Poets series. He is San Francisco's eighth poet laureate.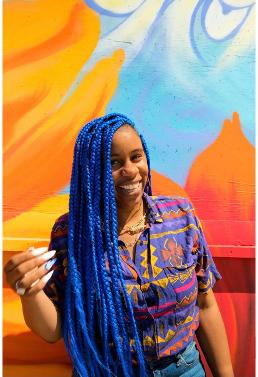 CieraJevae is a Richmond Native serving her community as a teaching artist, a healer, Poet Laureate, writer, editor, activist, community advocate and scholar. She honors her ancestors, & shines light on the lived experiences of the divinity in Black women & girls through poetry and performance. She is the published author of her new collection of poems, Unto Ivy's Rib, as well as the author of two chapbooks, Testimonies of Richmond, and Incarcerated Words. She obtained her B.A in Sociology, and her MFA in Writing. Her work highlights the intersectionality of Black girls and women, while centering joy, self-discovery, and healing.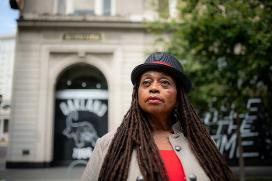 Ayodele Nzinga, MFA, Ph.D.
Ayodele Nzinga, MFA, Ph.D. is an author, playwright, director, producer, and actress. She is the founder of Oakland's oldest North American African Theater Company, The Lower Bottom Playaz, Inc. Her work with the troupe has been internationally reviewed. She is the only director in the world to produce the August Wilson American Century Cycle in chronological order. She is the founder of BAMBD CDC and the creator and Artistic Director of BAMBDFEST International. Her books SorrowLand Oracle and The Horse Eaters can be purchased from Nomadic Press. Her latest book Incandescent can be found on Amazon and other digital platforms or ordered from Not A Pipeline Publisher. Photo Credit Beth LeBerge